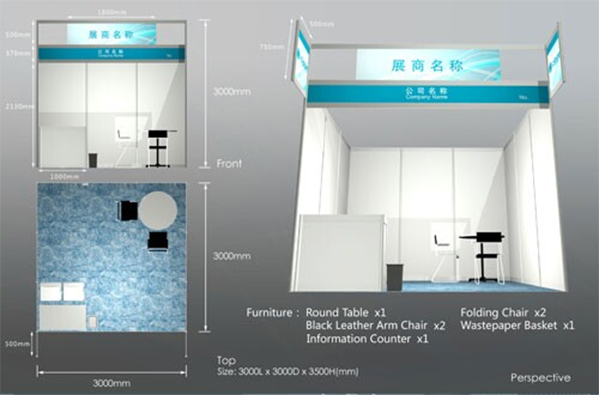 Important Dates
Application Deadline:June 15, 2023
Registration & Build up:08:30 - 17:30, July 16, 2023
08:30 - 21:00, July 17, 2023
Opening Ceremony:09:00 - 10:30, July 18, 2023
Exhibit:09:00 - 16:30, July 18, 2023
09:00 - 16:30, July 19, 2023
09:00 - 14:00, July 20, 2023
Closure & Dismantling:14:00, July 20, 2023
Exhibition Space
Shell Scheme Booth:
Price: CNY 19,800 /9SQM; Regular Size : 3m×3m.
This option includes back & inside walls, carpet, lintel board, one consulting table, two chairs, two lights and one power socket (220V, 5A).
Please specify in advance for special electricity use, and will be charged separately.
Raw Space:
Price: CNY 1,980/SQM (Minimum 36sqm).
Empty exhibition space for exhibitor to customize booth design and construction. The exhibitors shall not choose a contractor that is not designated by the organizer.
Exhibitor Service
Additional Exhibitor Service
Price: CNY 2,200/person (Includes lunches, beverages, manuals, gifts, one-day tour, etc.)
Catalogue Ad.
Front Cover: CNY 25,000 Inside Back Cover: CNY 15,000
Back Cover: CNY 20,000 Head Page: CNY 18,000
Inside Front Cover: CNY 15,000 Colored Inside Page: CNY 8,000
Size: 130mm (width) × 210mm (height)
Technical Seminar
A series of technical seminars will be held during the exhibition so as to maximally meet participants' requirements for technical communication and products launch as well.
Technical Seminar (Conference Room)
Price: CNY15,000/Session
Including venue, audio equipment, projector, on-site sign, water, etc.